About Langley Roofing Co Ltd | Langley – Lower Mainland
At Langley Roofing Co Ltd, we believe in maintaining strong partnerships within our community, whether with customers or industry-related organizations. We have been a member of the RCABC (Roofing Contractors Association of British Columbia) since 1970 and CRCA (Canadian Roofing Contractors Association) since 1972. Langley Roofing Co Ltd is also a member in good standing with ICBA (Independent Contractors and Businesses Association) and the Better Business Bureau®. We are also a supporter of the IBCE (International Institute of Building Encloser) formally known as RCI (Roofing Consultants Institute).
Our Guarantees
You can have peace of mind knowing that we have $5 million liability insurance and we are fully bonded. As members of RCABC, Langley Roofing Co Ltd can offer 5 and 10 year RCABC guarantees as well.
Awards
RCABC RoofStar – Building of first roofer training centre in North America – Patron's Square sponsor
Gold Sponsor – CRCA 50th Anniversary National Conference (2009)
AOK's Extreme Home Repair – Act of Kindness Award (May 2012)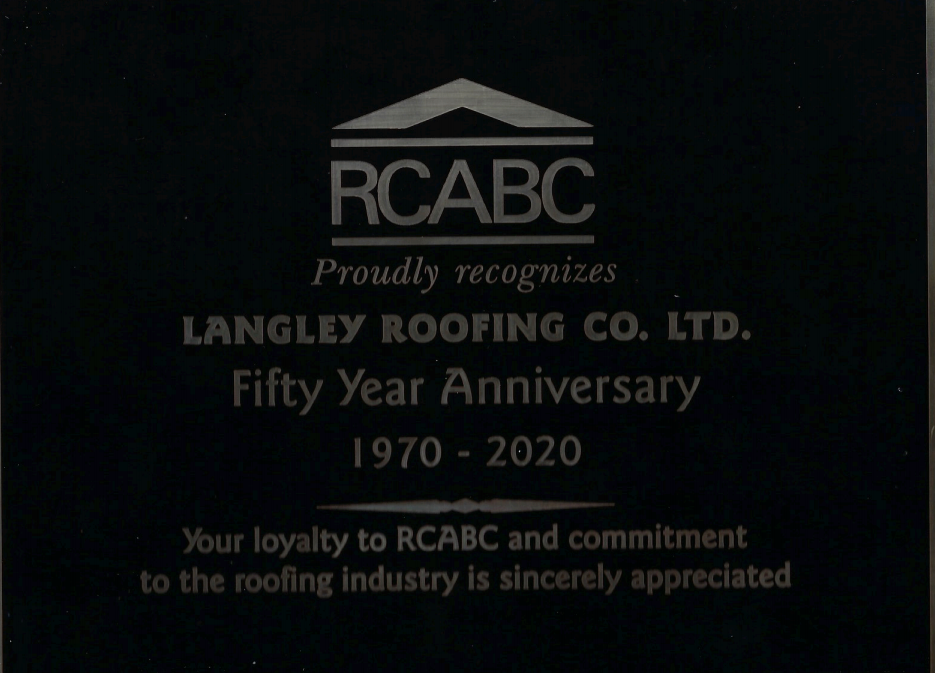 Contact Us for Reliable Service
Langley Roofing Co Ltd has been a part of the local community in Langley and the Lower Mainland for over 55 years, and we have developed a reputation as a roofing company that you can rely on. We perform re-roofing and repairs for all types of buildings, so if you are in need of roofing service, contact us to receive a competitive estimate.

We can be reached by telephone and email, or you can contact us online. We will respond as quickly as possible to your inquiry.
Taking Your Roof to New Heights
We provide the most reliable repairs, maintenance, re-roofing, flat roofs, and waterproofing services for Commercial and Residential Roofing in the Lower Mainland. Get a Quote for roof repair service in Langley. We also supply roofing products.
Our Roofing Services

At Langley Roofing Co Ltd, we serve residential, commercial and institutional customers. We install asphalt, duroid, fiberglass, and laminate shingle roof systems for steep roofs so we can assist you with everything from repairs and maintenance to re-roofing and waterproofing and. If your roof has deteriorated over the years or has been damaged by weather, give us a call and we will be there to help.
Quality Materials

When it comes to installing shingles and flat roofing systems, Langley Roofing Co Ltd utilizes the highest quality products. We select products that have optimal performance and excellent durability, so your new roof or repaired sections will last for years to come.
Contact Us Today

If you need professional services from our roofing contractors in Langley, contact us today. We will be happy to assist you. Call us at 604-534-8651 for more details.